The museum expansion in 2016, for example, was made possible through the PPG´s community engagement grant making program in an effort to expand the educational benefits to children and schools around the PPG Milan community.
Other events include:
Night at the Museum
Italy's newest scientists in the making were treated to a fascinating night of experiments, activities and fun at the Science and Technology Museum of Milan.
The children of local PPG employees in Italy became junior scientists after spending a special night at the Museum.
The overnight adventure gave the children and their families the chance to explore the exhibits, work with museum staff on a variety of experiments, and become more familiar with the role that science plays in everyday life.
The event featured several activities designed to engage the children in the scientific process, including an interactive hunt that required them to find clues buried throughout the museum to solve an array of problems. The museum staff also produced short plays that helped the children understand science and technology. After spending the night at a special 'camp' set up in the museum, the children received a special diploma to mark their efforts as a museum investigator.
"This was an experience that the children will remember, it brought science to life. We look forward to working with the museum staff to bring these types of programs to other children throughout our community."
– Luca Di Maio, director, human resources, Italy, and aerospace, EMEA.
Chemical Labs Activities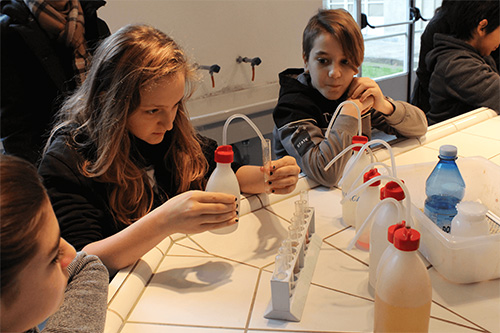 450 students from Cormano, a village near the PPG plant and their eight teachers were invited to the museum for a training session.
The museum staff worked with the teachers and students alike to significantly improve their understanding of the sciences.
The Science Behind Food
PPG also gave 30 disadvantaged students from "La Rotonda Onlus" the chance to visit the museum, who's gratitude was evident through the joy they took in learning about the science behind some of their favourite foods.